ANNOUNCEMENTS
---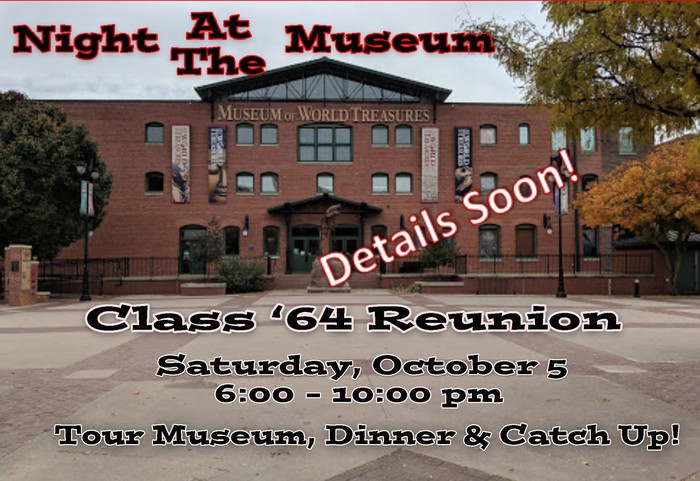 Your reunion committee is busy planning our 55th reunion on October 4 and 5, 2019. We have met once and secured the ballroom on the 3rd floor of the Museum of World Treasures in Old Town for our Saturday night get together and I guarantee you will have a great time at "A NIGHT AT THE MUSEUM". There will be food, music, a short program, class photo and a chance to tour the museum, It is really a treasure. Friday night will be a casual event. - details later. Be sure you have your email address listed so we can contact you. There will be one mailing and the rest of the agenda will be sent via email along with registration information from the website. Thanks to Karen Kelly for her expertise as Webmaster for this website.
Carolyn Zackula (Tschetter), Reunion Chairperson
Questions send me an email at CONTACT US*
Complete survey to help us with planning.
15 have completed survey, but others have responded via email.
4/17/19 kk
Karen Dowler Kelly, Webmaster
You must be logged in to submit this survey. Please use the login box in the upper right corner.
1)
55th Class of 1964 Reunion & All School Reunion Weekend is October 4, 5, 2019 sounds like fun! Let's us know if you'll plan to attend. Yes, No or leave a comment.

This will help us determine what size of room we need for Saturday Dinner. Add # & your name in Comments
We had 170 attend 50th in 2014 - Goal for 55th is 100?
55th Reunion Details

Just to make things interesting in our old age and to get up to date with all our electronics.
Take a look on your laptop, computer and phone and see how it looks. Let me know what I need to change.
To log out of website go to the Person Icon at the top, at the bottom is log out. Also, update your profile and add some pictures, make sure your information is correct. We have a list of bouncebacks, that emails are not working, so you will not receive any emails from site until corrected.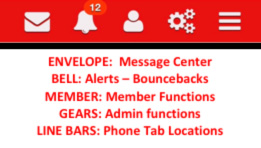 Save the Date New Announcements for 55th Reunion has been added 3/28/19. Complete the survey to help us in the planning.
Thanks,
Wichita North '64 Webmaster
---
Site Created: 7/20/2009
Home Page Visitors*
91,101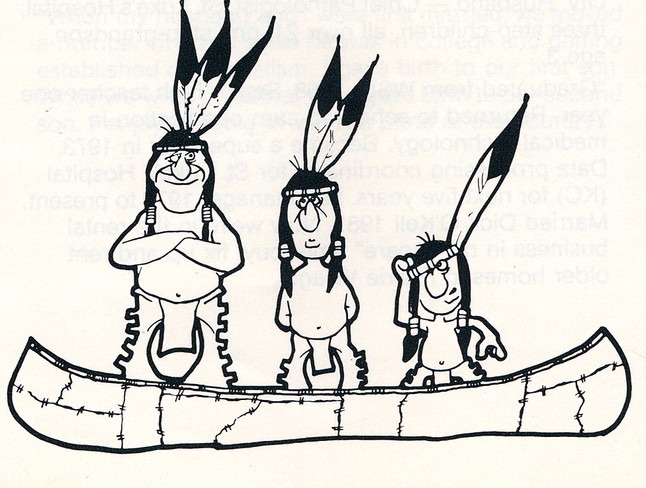 (*this number is the cumulative total visitors
we have had since creating your web site)
---
MEMBERSHIP DISCLAIMER: This is a private site for CLASS OF 1964 NORTH HIGH SCHOOL Graduates. Classmates that did not graduate with the class, or that graduated from other years may be admitted on a case by case basis. All membership, regardless of graduating year, will be granted or denied, at the discretion of the site administrator. All memberships may be revoked at the discretion of the site administrator. The privacy and security of all registered members will be considered a priority for the purpose of invitations, admittance, denials and revocations.
Email notifications from this web site: For those of you with spam blocking or email filtering capabilities, please add noreply@classcreator.net to your email account as a safe sender in order to receive email communication from this web site. We do not want to receive "bounce back" emails and don't want you to miss receiving emails from other classmates!